Why you should know Versant before applying to any Call Center job
This is your quick guide on the Versant computer-based exam.
Do you agree that you will do much better on any job application if you are 100% prepared? Have you gone through a BPO job application in the past and got surprised by the whole process? Are you about to go through your BPO job application without knowing what the different stages are? Unliversity is giving you a preview of what goes into those computer-based exams. The goal is to provide you with a leg-up. As they say, knowing is half the battle. In this Unliversity Essay Series, we will give you a preview of what goes on in Versant, SVAR, and Berlitz computer-based tests.
Unliversity.com is a 100% FREE ONLINE COURSE SITE that aims to upskill and coach applicants of the BPO industry.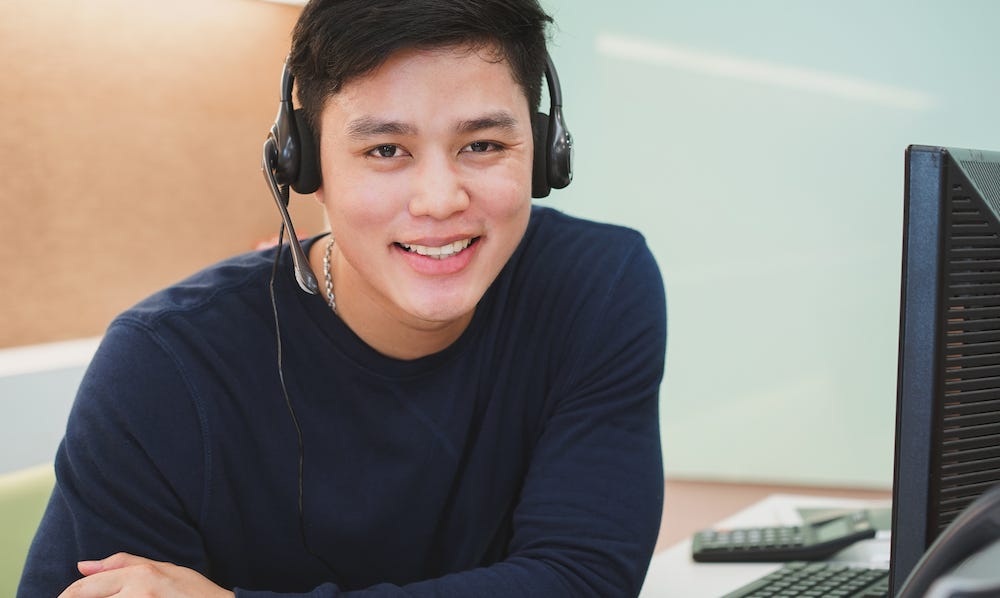 Series 1 of 3: VERSANT
Versant is a computer-based exam that measures your English communication skills. You will be wearing headphones and a microphone. The voice prompt will ask you a series of questions that you need to answer verbally.
During this exam, you have to talk LOUDLY, CLEARLY, and a bit SLOWLY so the computer can capture your answers 100% accurately. Avoid dead air, like 2 seconds of silence, because the program might think that you are not online anymore. You have to answer immediately after the question is finished.
For a more comprehensive Versant test preparation, head to Unliversity and sign-up for the FREE VERSANT SIMULATION COURSE. All Unliversity courses are 100% free!
There are six stages of the Versant test.
Between stages, Versant's voice prompt will instruct you on what to do. Listen carefully to the instructions.
STAGE 1: READING
The test administrator will give you a piece of paper. On the paper are sentences with corresponding numbers. The Versant's voice prompt will provide you with a number. Your job is to read the sentence that corresponds to that number. Very simple.
STAGE 2: REPEAT
This section tests your ability to listen and recite the sentences back. The versant voice prompt will state a whole sentence. You need to repeat exactly what it says. Repeat each sentence that you hear exactly as it was said.

Example: "It's supposed to rain tomorrow, isn't it?"
STAGE 3: CLOSE-ENDED QUESTIONS
This stage requires straightforward answers to very simple questions.

For example, "Would you get water from a bottle or a newspaper?"

You can answer it with, "From a bottle" or even "A bottle."
STAGE 4: SENTENCE BUILDS
Rearrange the word groups into a sentence that makes sense.

For example, "Was reading my mother her favorite magazine."

The answer is, "My mother was reading her favorite magazine."

Another example is, "Mark to the mall full of books with a bag went."

The answer is, "Mark went to the mall with a bag full of books."

Always remember to relax, pause, and speak slowly but clearly, especially during this part of the Versant test.
STAGE 5: STORY RE-TELLING
You will be told a story once. After the beep, you will be given 30 seconds to re-tell the story in English. Re-tell as much of the story as you can, including the situation, action, characters, and ending.

A sample story is, "Phil wanted to watch TV when he got home. His father said that first, he had to walk the dog. Then he had to clean his room. After he finished his chores, he could watch TV."
STAGE 6: OPEN QUESTIONS
This part is fun! You will be asked questions about family life or personal choices. Answer within 30-40 seconds, depending on the instructions. Within this period, do not stop talking. You can pause, but do not stop. Versant doesn't like dead air.

An example of an open question is, "Given a choice, would you like to live in a large city or a small town? Please explain why."

There are two tips here to ensure you won't stop before the given time frame.

One, you can talk a little bit slower than you normally would.

Or two, make use of extenders. Instead of just saying, "I like living in a small town because I love being surrounded by trees." You can extend it by enumerating the trees that you know.

"I like living in a small town because I love being surrounded by trees such as mango trees, papaya trees, Molave trees, Ilang-ilang trees…"

This style is a no-no when talking to an interviewer. But with Versant, it's recommended, especially if you're running out of words to say.
For a more comprehensive Versant test preparation, head to Unliversity and sign-up for the FREE VERSANT SIMULATION COURSE. All Unliversity courses are 100% free!
KEY TIPS WHEN TAKING THE VERSANT TEST:
Tip #1: Versant cares more about your accent and pronunciation and less about your grammar.
You have much better chances of passing Versant if you speak with the right accent and pronunciation even with incorrect grammar.

If your grammatical errors aren't so severe, Versant will still understand the concept of what you said. But if the accent and pronunciation are wrong, Versant cannot make sense of it at all.
Tip #2: No long pauses and avoid dead air.
In case you are nervous, remember this tip: don't be silent, because that's the 100% surest way to fail. Come up with something to say, anything, as long as it's English. Even something unrelated to the questions.

Also, try to mirror Versant's intonation. If the statement is a question, repeat it like a question. If it's an exclamatory sentence, repeat it like an exclamatory sentence.
Tip #3: Turn up the volume of your voice!
The volume of your voice is very important. Think of it like the karaoke that gives your friend a score of 100 even if he's out of tune. It's just that he screams the song so loud. It's the same with Versant. Your voice should be loud enough for the Versant software and algorithm to hear you. If it's barely audible, it will register as dead air. Remember, dead air isn't an option unless you want to fail.
Tip #4: Go to a spot with fewer distractions
Sit as far as possible from other people and turn off your phone notifications. Focus on taking the test.
Tip #5: Talk slowly
Not only does it help you with the 30-40 seconds requirement, but it also helps with your pronunciation. You'll enunciate each word.
Tip #6: No Fillers Allowed
Fillers are "Uh…like…ano…baga…lagi, etc.

Getting rid of them is hard, but if you talk slowly, your brain can process your words properly before it comes out of your mouth.
There are many types of computer-based tests depending on which company or which kind of account you will be applying for in the BPO industry. Knowing at least one of the three common tests will significantly improve your chances of success!
For more comprehensive BPO JOB APPLICATION preparations, head to Unliversity and sign-up for the EFFECTIVE BPO JOB APPLICATION COURSE. All Unliversity courses are 100% free!