Call Center Interview Do's & Don'ts
Increase your chances of passing your job interviews for call center agent positions!
With the plenty call center job openings comes the abundance of applicants who are trying to get their start in this industry. Hundreds of call center applications are processed daily in the Philippines alone. No matter your BPO experience, it's always a challenge. Should that stop you from trying to gain a foothold in the industry? Of course not.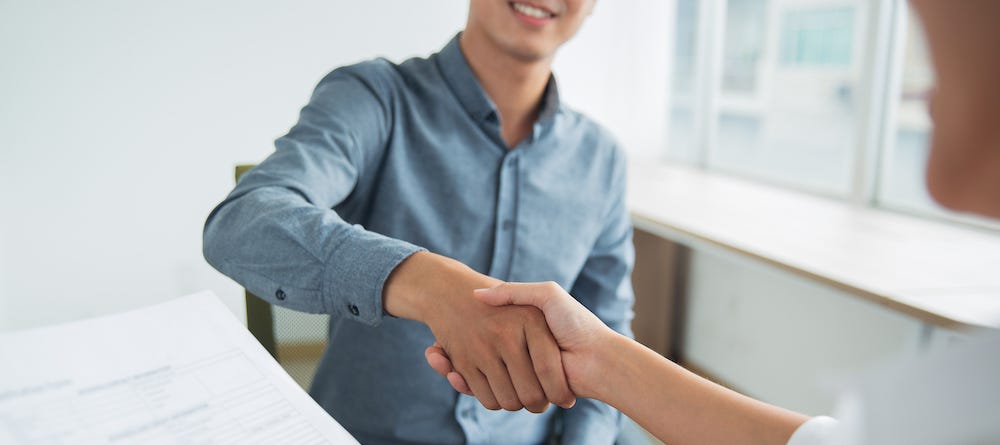 Whether you're a fresh graduate looking for your first job, a career shifter who wants to make the switch, or an experienced call center agent looking for new opportunities —brushing up on some call center interview tips will help you better present yourself and avoid missteps along the way.
We've compiled a list of some dos and don'ts that can help you prepare before, during, and after your interview.
PART 1: Before the Interview
DO YOUR HOMEWORK
This should be one of your priorities while getting ready for interviews. Doing your research on the company, the position you are applying for, and the questions you'll likely be asked will expand your knowledge and boost your confidence before the big day.
REHEARSE THE ROUTE TO THE INTERVIEW LOCATION
Practice the directions to your interview site. This is so you'll know where to go and how long it will take you to get there. It will also let you consider the traffic issues that could lengthen your travel time. Overall, it will help you minimize stress on the day of the interview.

Also plan to arrive and check in for the interview at least 15 minutes before your schedule. This will show your punctuality and give you ample time to mentally prepare and compose yourself for the main event.
DON'T DRESS LIKE IT DOESN'T MATTER
Although most call center dress codes allow applicants to wear casual clothes for interviews, it is still good to get an advantage by looking your best. Your appearance will play a big role in the first impression you will give to interviewers. There is no need to put on a business suit for the occasion but don't dress down too much as well. Whatever you do, don't wear dirty, worn shirts and shoes.

Hiring Managers will appreciate your effort in the way you properly present yourself. It will also speak volumes on your intent to land that call center job.
PART 2: During the Interview
BRING YOUR RESUME AND ID
While you most likely already passed a CV online, it's still always good to have hard copies of your resume ready during the interview. This will show your interviewers how prepared you are. Valid IDs are also important as most call center buildings need identification upon entry.
BE ENGAGING
Maintaining eye contact shows interviewers that you're interested in what they have to say. It will also make them believe more in the answers that you're giving. Additionally, smiling shows that you're friendly and glad to be there. You certainly want to let your personality shine through while still appearing highly professional during the interview.
DON'T INTERRUPT
This one may seem obvious, but it's a good reminder to be respectful. Wait until your interviewer is done asking their questions or responding to your answer before you start talking.
DON'T RAMBLE
While you'll likely feel nervous, still do your best to avoid rambling and stuttering on your words so you will not appear incoherent. A right amount of pause here or there is also completely acceptable and will buy yourself a little time to think.  As mentioned before, take the time to do your research. Doing so will help you stay focused throughout the interview.
DON'T SPEAK NEGATIVELY ABOUT A FORMER BOSS OR PREVIOUS EMPLOYER
Even if you have had bad experiences with a previous boss or company, avoid unfavorable remarks about them. Negative comments will make your interviewer assume that you would do the same about their company in the future.
DON'T ASK ABOUT COMPENSATION RIGHT OFF THE BAT
It wouldn't look good on your part to come across as someone whose only concern is money. While compensation is one of the most important factors in your decision to accept a job, it is generally best to allow the employer to bring it up first.
DON'T MENTION OTHER JOB PROSPECTS
Some applicants will drop hints about having other pending interviews in hopes of persuading employers to speed up the application process. Some will even go further and mention other job offers hoping to get a better compensation package. These are very risky gambles as they can call your bluff and we strongly suggest that you refrain from them. They could question your commitment, tell you that they can't keep you from accepting another offer, and remove you from their list.
Commitment is also an essential characteristic that employers look for in an applicant during interviews. They want to know that they are hiring someone who wants to grow and stay in their company for a long time
PART 3: After the Interview
DON'T CALL THEM TOO MANY TIMES
You have to keep in mind that call centers process bulk applications. Therefore, processing may take longer than expected. A couple of calls or emails with a weekly interval is enough. If there is still no update, wait, and the company will contact you sooner or later if they want to hire you. Be patient and hope for the best.
While waiting, you can tend to other applications you have queued. It is best to have back up options just in case the one you are waiting for doesn't work out.
BE ACCESSIBLE
Instead of bombarding the company with calls and messages, make sure that they can reach you anytime, especially when you are already on the final stages of your application. If you know that you will be unreachable for some time, send them an email beforehand and inform them when you'll be available again.
Use this interview do's and don'ts and land that job offer!